E3ME adds detailed regional coverage of Africa and OPEC countries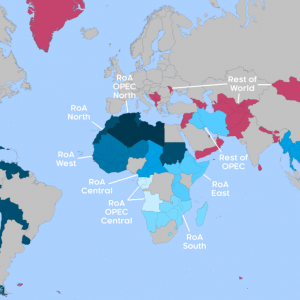 As African countries and OPEC member states play an increasingly important role in a multipolar world, we need detailed modelling analysis of these regions more than ever. Michael McGovern explains how CE have enhanced the global E3ME model's coverage of this part of the world, by introducing 12 new African and OPEC regions to E3ME.
Africa and the Middle East in a global context
Africa and the Middle East are at the heart of many 21st century global policy questions. The climate crisis has presented oil-exporting nations, many of whom are located in these regions, with the historic challenge of diversifying their economies away from fossil fuels. Meanwhile, environmental concerns will be just as important for other countries in Africa, whose growing populations and industrialising economies will place an increasing strain on the natural environment.
There is just as much, though, that sets economies in these regions apart, as they have in common. Resource-rich economies such as Nigeria and D.R. Congo have different structural profiles to primarily agricultural economies such as Malawi and Chad, or those with a greater emphasis on tourism, such as Madagascar and Namibia. Trade relationships in Mediterranean countries such as Morocco and Egypt are very different to those of nations facing the Indian Ocean, such as Ethiopia.
Each economy is distinctive in terms of its level of industrialisation, its dependence on fossil fuels, its trade relationships, and many other dimensions. We must not fall into the trap, as analysts and policymakers, of treating them all the same.
For a truly robust analysis of policy impacts in these regions, we need a modelling framework which captures their individual characteristics in more detail.
Expanding the regional coverage of E3ME
As part of our continuous development of E3ME to improve its capabilities and accuracy, we have expanded the model's regional classification to include more detailed coverage of Africa and Middle Eastern countries.
E3ME's regional coverage spans the whole globe, although some parts of the world are treated with more precision than others. Many countries are represented individually in E3ME as standalone "regions": these include the world's largest economies such as the USA, China and EU member states, through to many smaller economies such as North Macedonia and Taiwan.
However, due to data availability and technical constraints, many of the remaining countries of the world are grouped together into "aggregate" regions. The previous version of the model (prior to the latest update) featured 6 aggregate regions (highlighted in different colours in the map below; the single-country regions are in grey).
With the latest update to the model, we have split three of these aggregate regions into 12 smaller regions; of these, 4 are single-country regions (Egypt, Kenya, D.R. Congo and U.A.E.), and 8 are smaller aggregate regions.
First, most of Africa was previously covered by a single aggregate region. We have now split this aggregate into eight separate regions: three single-country regions (Egypt, Kenya, D.R. Congo) and five aggregate regions (Rest of Africa West, Central, South, East and North).
Second, the African OPEC member states featured as a separate region: this has now been split in two (OPEC Africa North and OPEC Africa Central). And third, U.A.E. has been introduced as a separate country.
These changes are illustrated in the map below, with the old regional classification shown on the left, and the new version on the right. E3ME now includes a total of 70 regions, including 59 individual countries and 11 aggregate regions (increased from 61, 55 and 6 respectively).
To split these regions in the E3ME database, we used data from a variety of sources. For the economy module, we sourced data from the World Bank, the UN National Accounts and the Eora Global Supply Chain Database. We also used employment data from the International Labour Organisation (ILO), and energy and emissions data from the International Energy Agency (IEA) and the Emission Database for Global Atmospheric Research (EDGAR).
Addressing new policy questions
This new level of regional detail allows us to analyse how local and global policies in climate, trade, and other domains specifically impact different countries and groups in Africa and the Middle East.
This is a significant development. Last year, we contributed to a study on the circular economy in Africa, which showcased the possibility of using FRAMES, a more lightweight cousin of E3ME, to model countries not covered individually in the latter.
But while FRAMES is a viable alternative to E3ME in these instances, having these countries featured individually in E3ME allows us to capture greater complexity in our modelling, especially when it comes to global trends and interactions.
With the latest update, we have expanded E3ME's capability in this regard. The model now covers five key African economies individually in E3ME: Egypt, D.R. Congo and Kenya have now been added to Nigeria and South Africa. These countries have been chosen as they are each a key economic hub for five parts of the African continent (North, Central, East, West and South respectively), which are themselves now represented as separate regions in E3ME.
OPEC member states, meanwhile, have always been treated separately from their neighbours in E3ME, due to their distinctive profiles and roles in the global energy system. With this update, we have made more refined distinctions among the OPEC members themselves.
The African OPEC members have been split into two groups – northern and central African OPEC economies – to reflect key structural differences between them, such as their key trading relationships with partners such as the EU. Additionally, U.A.E. now features as a standalone region, separate from the 'Rest of OPEC' region (which includes Iraq, Iran and Kuwait).
Global trends, local impacts
Robust analysis of policy questions in the Middle East and Africa requires a model that can capture the individual characteristics of each region. This update represents a significant increase in E3ME's capability in that regard.
And while E3ME is unlikely to ever cover all countries of the world individually, with its sister model FRAMES we can individually model the economy-energy-environment (E3) interactions of almost any country in the world not covered by E3ME.
But the key advantage of E3ME over FRAMES is its integrated analysis of global dynamics and interactions, from trade relationships to technological developments. Therefore, with the introduction of these 12 new African and OPEC regions to E3ME, we are now better placed than ever before to model African countries and OPEC member states in their proper global context.
If you are interested in new developments, such as the new, extended spatial coverage of the E3ME model click here to sign up to our newsletter.